We spoke with medical, aviation, and travel experts to answer the question of whether or not it's safe to fly right now. The answer is complicated and comes with caveats.
After months of stay-at-home orders and closed borders, cities around the world have begun the process of reopening, travel restrictions have started to soften, and leisure travelers are itching to hit the road again. Some travelers are dipping their toes back in with road trips, day trips, and camping trips, while others have their eye on the sky. Airlines are still struggling and only running just a fraction of their usual flights, but passenger numbers are slowly rising, particularly in the U.S. As more travelers start taking advantage of the loosened restrictions and reopenings, dare we say things are looking up for air travel?
Even still, is it actually safe to take a flight right now? According to the medical, mathematical, aviation, and travel experts we spoke with, the answer is complicated and comes with numerous caveats. While it may be safe to fly, that doesn't mean it's without risk. In a nutshell, it all boils down to weighing the many variables and deciding how comfortable you feel getting back on a plane. Here's what the experts have to say.
How clean is the plane?
Brian Kelly, CEO and founder of The Points Guy, recently took his first flight since quarantine and said there wasn't even a single smudge mark on his in-flight TV screen. "Normally planes get turned around [for a new flight] every hour, and most flights get a very cursory cleaning," he said. "You can feel the slime on the plane. This was different — it felt and looked spick and span."
While specific cleaning procedures and the frequency with which they're carried out vary by airline, most major airlines are disinfecting planes between flights, giving extra attention to high-touch surfaces and bathrooms. Many airplanes also use HEPA filters, which completely refresh the cabin air throughout the flight and work to filter out over 99 percent of airborne viruses, bacteria, and other contagions. Additionally, airlines like United, JetBlue, Hawaiian, Delta, and Southwest have implemented the use of electrostatic antimicrobial sprays to thoroughly disinfect every nook and cranny of the cabin, either overnight or between certain flights. Many airlines are also offering disinfectant wipes or hand sanitizer to passengers, though all of the experts we spoke with suggested bringing your own just to be safe.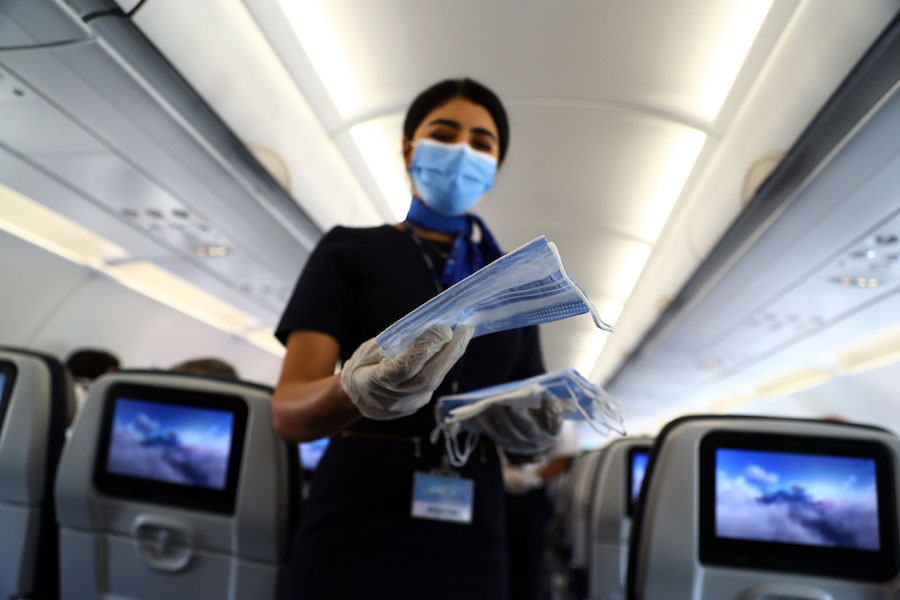 Is it safer to fly domestically or internationally?
Travelers should consider the same factors — safety protocols, seat spacing, aircraft cleanliness, and flight time — for both types of flights. The main differentiating points to look at when deciding whether to fly domestic or international don't actually have to do with the flights themselves, but focus rather on outside variables, such as where you're going, infection levels at your destination, what precautions they have in place, if you'll have access to adequate healthcare, and any travel restrictions or quarantine rules.
Dr. Winfried Just, a researcher in mathematical epidemiology and professor at Ohio University, and Dr. Georgine Nanos, a board-certified physician specializing in epidemiology, both agreed that the prolonged exposure of a long-haul flight could be riskier, but only because it leaves the door open that much longer for potential exposures. Longer flights mean more people using the bathrooms, more instances of masks being removed (even if just temporarily for eating and drinking), more exposure to anyone nearby who might be shedding the virus, and so on. Since flight times for both domestic and international flights can be anywhere between one hour and double-digits, it's safer to choose destinations with shorter overall flight times. That being said, when it comes to flying during a pandemic, safety is measured on a sliding scale. Dr. Just cautions that "safe is never 100 percent safe," since it is impossible to completely eliminate risk.
See the rest of this article here.