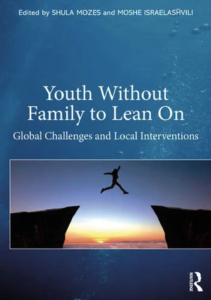 A new book called "Youth Without Family to Lean On" edited by Moshe Israelashvili and Shula Mozes will be published by Routledge on September 20, 2022. The book is in English, and attempts to give a comprehensive description of interventions in the field, and its development, in many places all over the world.
More details, and the possibility to order on-line – www.routledge.com/9780367645038
Book Description
Youth Without Family to Lean On draws together interdisciplinary, global perspectives to provide a comprehensive review of the characteristics, dynamics, and development of youth (aged 15–25) who have no family to lean on, either practically or psychologically.
In this timely volume, Mozes and Israelashvili bring together leading international experts to present updated knowledge, information on existing interventions, and unanswered questions in relation to youth without family to lean on, in pursuit of fostering these youth's positive development. The various chapters in this book include discussions on different topics such as social support, developing a sense of belonging, parental involvement, and internalized vs. externalized problems; on populations, including homeless youth, residential care-leavers, refugees, asylum-seekers, young women coming from vulnerable families, and school dropouts; and interventions to promote these youths' mentoring relationships, labor market attainment, out-of-home living placements, use of IT communication, and participation in community-based programs. Additionally, various problems and challenges are presented and elaborated on, such as: Who needs support? Who is qualified to provide support? How should related interventions be developed? The book takes a preventive approach and aims to emphasize steps that can be taken in order to promote young people's positive development in spite of the absence of a family to rely on in their life and examines the best practices in this context, as well as the international lessons that deserve further dissemination and exploration.
This book is essential reading for those in psychology, sociology, public health, social work, law, criminology, public policy, economics, and education and is highly enriching for scholars and practitioners, as well as higher education students, who wish to understand and help the gradually increasing number of youth who are forced, too early, to manage their life alone.
Biography
---
Shula Mozes is a social entrepreneur. In 2001, she founded the "Lamerhav" program for young adults who lack family support, and in 2015, she launched "iota", a social business striving to design beautiful hand-knitted furniture while creating jobs for otherwise unemployed people worldwide and preserving this craft.
Moshe Israelashvili, Professor Emeritus, School of Education, Tel Aviv University. His studies focus on adjustment, coping, and resilience. He has published and co-edited several books, including: The Cambridge Handbook of International Prevention Science (2017) and Education in the Arab Society in Israel (2020).