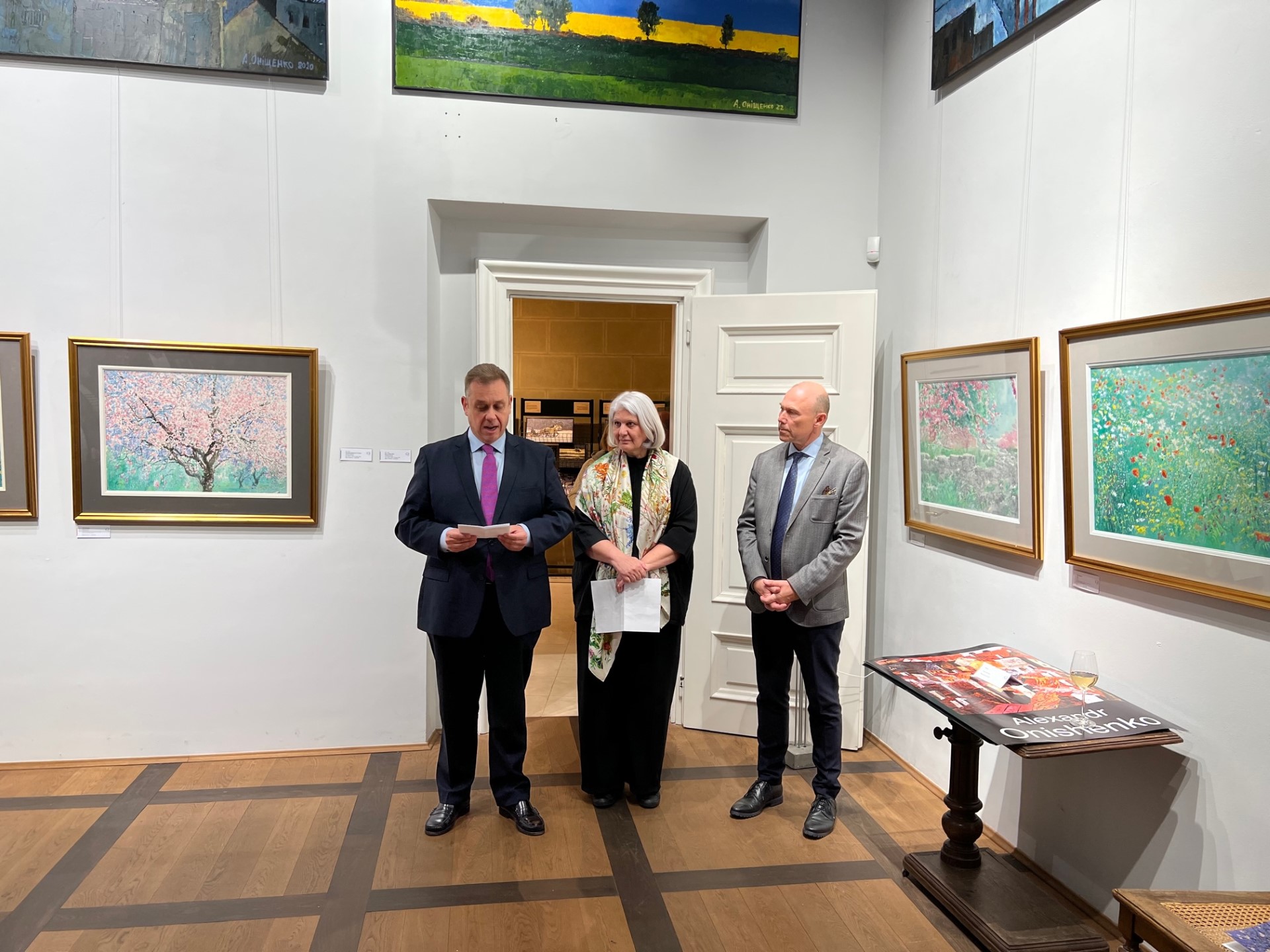 A very special exhibition of the Czechoslovak born painter Nicholas Egon was open today ( 18.11.2023 ) at GALERIE JAKUBSKA – Thunovská 183/18, 118 00 Malá Strana.
The exhibition will be open for the public until 1.6 , every day from 11 – 17:00.
Nicholas Egon was born in Brno, then Czechoslovakia, in 1921, only son of Count Kornel Vranov and his Hungarian wife, Olga Apponyi. From a loving home and exquisite education with private tutors, he was to leave the family castle aged 16 to pursue a career as a fine artist, with only a silk dressing gown and seven pounds in his pocket.
Working his way through Europe, including as a bell boy in Cannes, by 1939 he was living in England, designing cinema posters and saving pennies to buy books and gramophone records. He was commissioned as War Artist to the Czech Army in Exile, but resigned after disagreements with the regime about his 'unpatriotic' drawings. Then he was recruited as War artist for the British army and by 1947 was painting scenes from the Civil war and famine in Greece for a War Memorial commissioned by General Papagos, a bottle of Indian ink attached to his belt.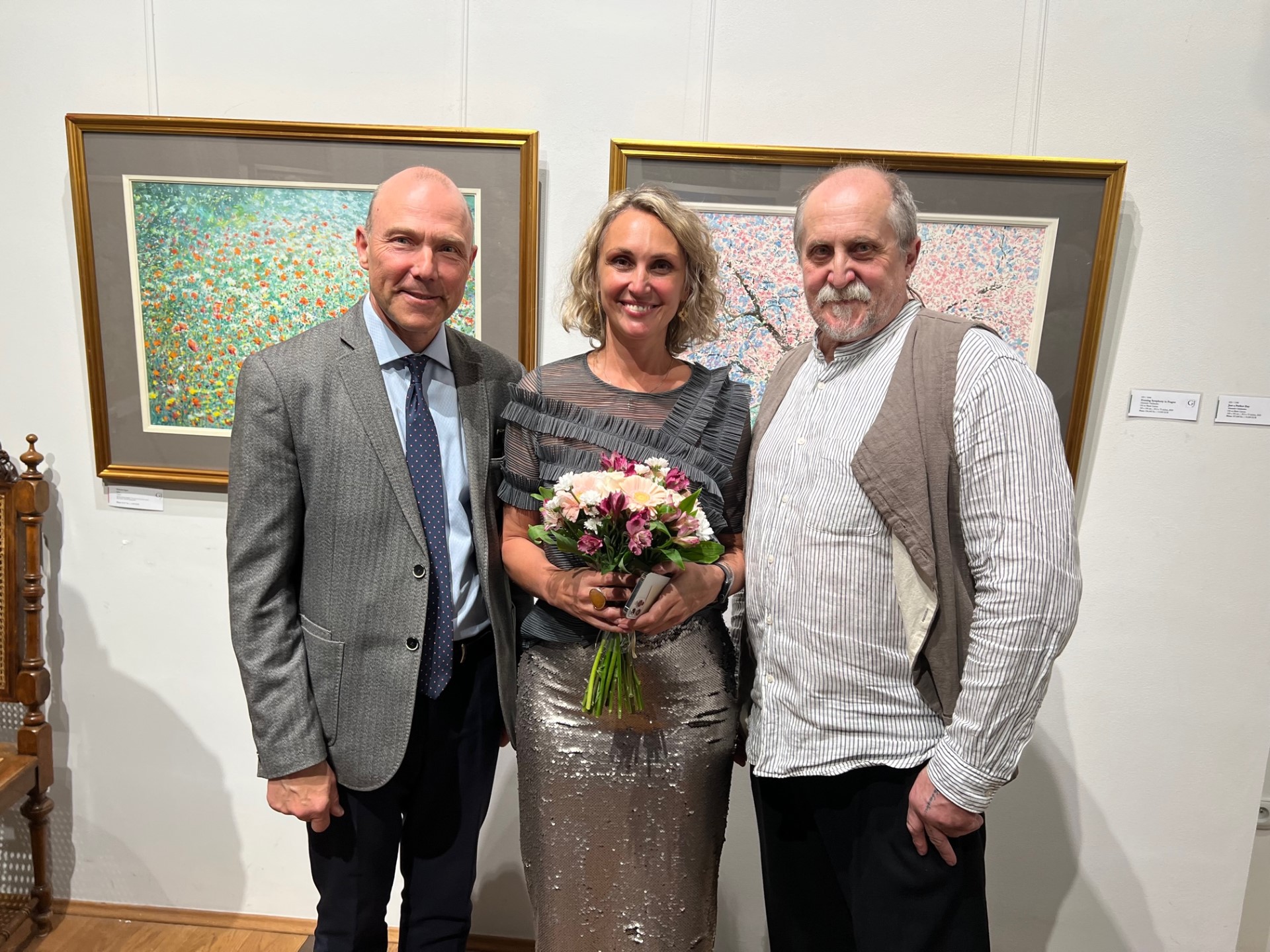 From 1946-50 he worked as Senior Lecturer in Fine Art at the University of London – the youngest ever in that post – and concurrently lectured weekly at the National Gallery. His early work included a number of abstract paintings, mainly oils, inspired by scientific subjects such as the discovery of DNA.
In the London of the 1950's and '60's, he became an acclaimed 'society' portrait painter, numbering Helen Mirren, Somerset Maugham and L.S.Lowry amongst his many sitters, and members of the aristocratic and royal families of Britain, Greece and Saudi Arabia. The author Maurice Collis was to write: 'There is no one to my knowledge in England at present who can produce portraiture of such exquisite quality'.
The 20 paintings of flowers are from a much later period, 2007-2017 – the last decade of his life. They were selected for a tribute exhibition at the Benaki Museum, Athens in May 2019, and are representative of the ultimate stage of his 'Nature and Landscapes' period, which had commenced after moving to Greece in 1996. From his studio in the hills surrounding Corinth he had wonderful views of the sea and mountains, a natural panoply bathed in that Greek light which he considered unequalled in the world and a source of his greatest inspiration.
They combine watercolour and pastel chalks and are of Greek flowers, except two which are of autumnal trees inspired by a visit to South Korea in 2009. Well-represented are poppies, ubiquitous in Greece in Spring, and geraniums, a 'signature' flower of the Egons which overflowed perenially from terracotta pots in the main entrance of their home. Almond blossoms from orchards on our mother's home island, Chios; Peloponnesian fields of wild flowers; and wilder bushes on mountain crags against blazing summer skies bear witness of his travels around his adopted country.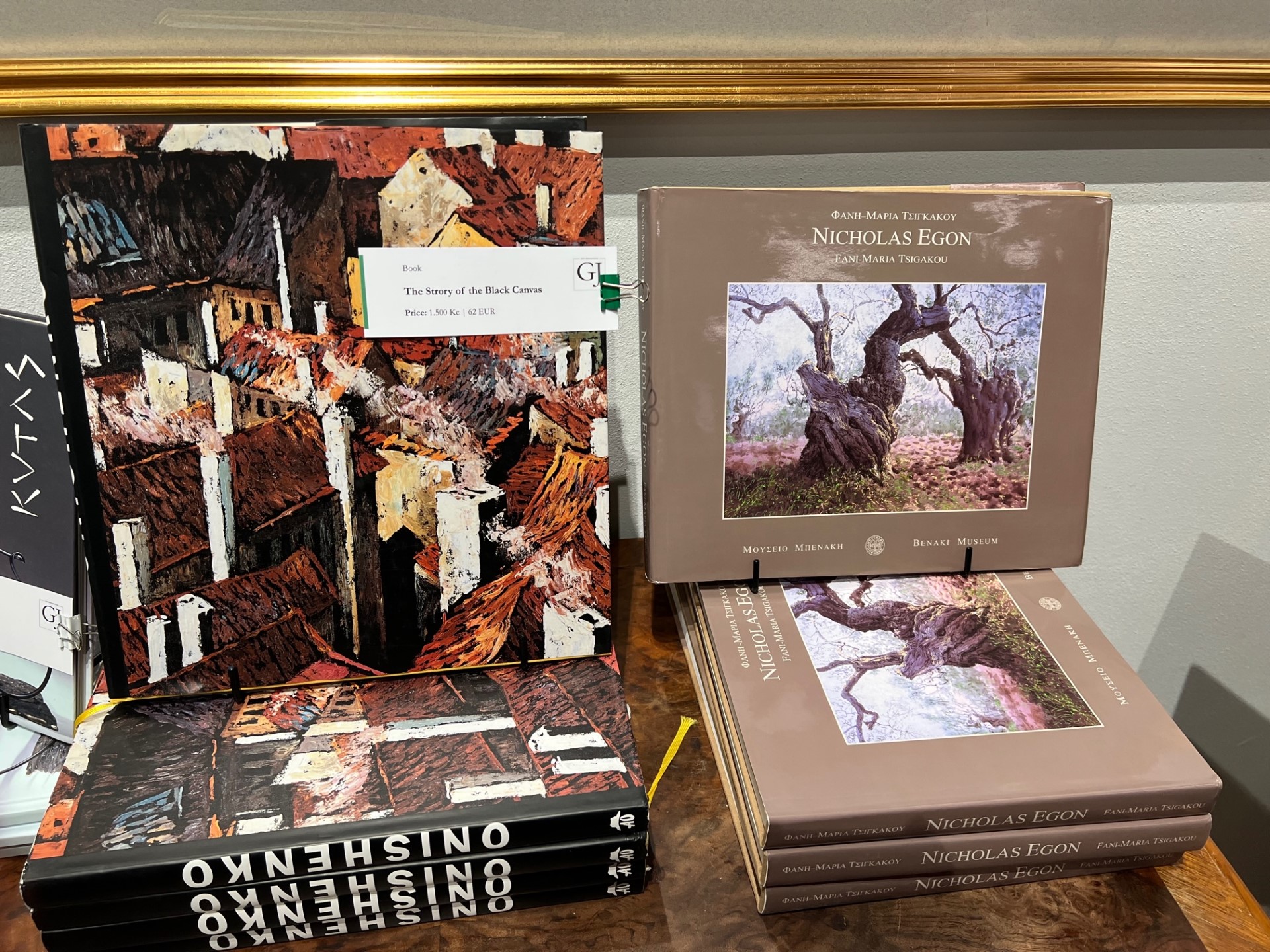 We see the culmination of his artistic endeavours, far removed from war memorials or high society, yet conceived along the same principles of excellence and truthfulness, and devoid of affectation. They are elegies to Nature, miniature hymns of praise to the natural world, swan songs, perhaps, with their deceptively simple style.
Nicholas Egon remained in contact with his parents until their communications were to cease abruptly without explanation. Affected deeply by their loss and the appropriation of the family estate, he was never to return to his homeland. He would have been amazed and grateful that his works have been brought to Prague by his good friend, H.E. Jan Bondy, and displayed under the kind auspices of the Galerie Jakubska. The family would like to thank them greatly.