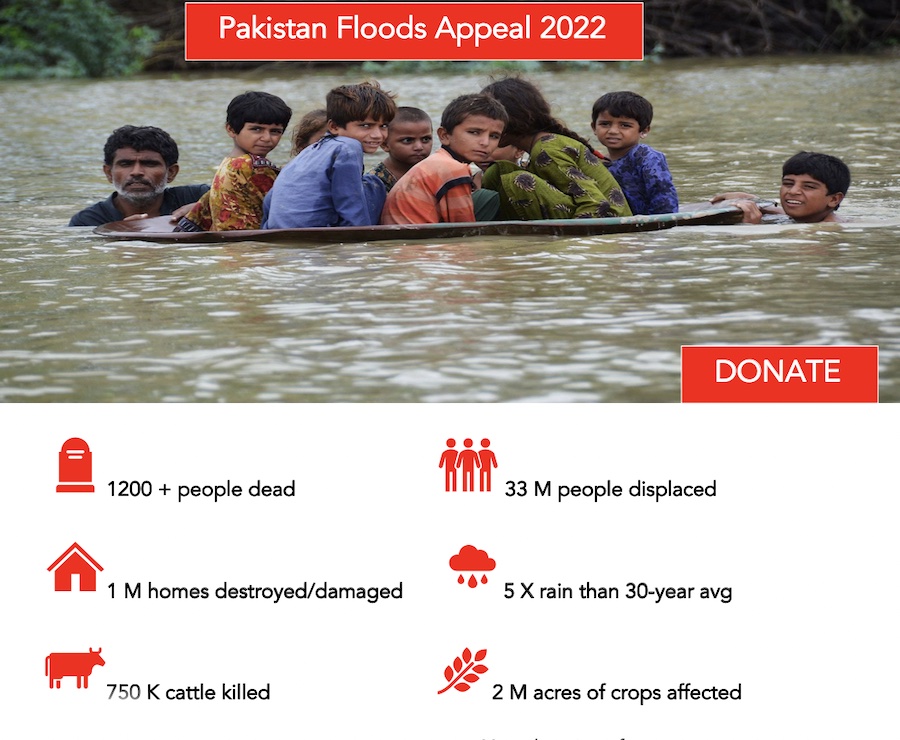 Devastating floods have hit Pakistan, submerging 1/3rd of the country underwater that's roughly the land mass of the Czech Republic, Slovakia and Hungary.
UN Secretary General Antonio Guterres has called this a "climate catastrophe".Entire villages have been cut off; road and rail infrastructure washed away, with rescuers struggling to reach stranded people. Some 3 million children and 70,000 pregnant women are in desperate need of food and shelter.
Vast areas of cultivated lands have been affected meaning many people are likely to go hungry in the longer term. Water-borne diseases are rapidly spreading putting at risk children, pregnant women and the elderly.
The government of Pakistan and aid agencies are working 24/7 responding to people's basic needs such as food, clean water and shelter. The government of Pakistan has called for international assistance to provide humanitarian aid.
Your donation of
KC 250 could provide essential hygiene supplies for two people
KC 750 could provide emergency shelter for one family
KC 1500 could provide emergency food for one family for a month
DONATE
Bank transfer: CSOB – Emb. of Pakistan Flood Relief Fund; Acct # 266 760 090/0300; please add your email while transferring funds
Credit Card donation: https://e-payment.nbp.com.pk
Thank You.