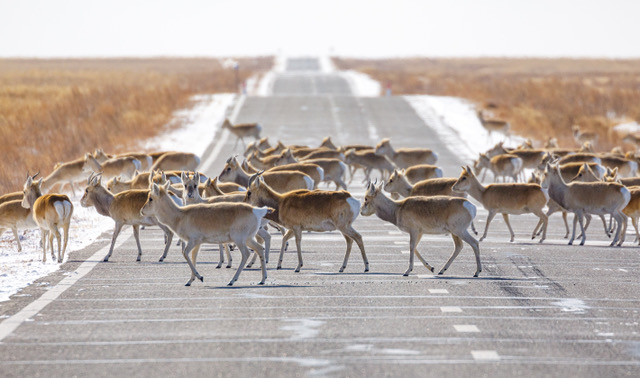 This article is part of a new column series written by Miroslav Bobek, Director of Prague ZOO.
The night before our departure from Khalkhgol in eastern Mongolia the night temperature dropped to -45°C, and when we wanted to refuel in the morning, it was impossible. The pump at the diesel tank was frozen. Fortunately, we had enough fuel to drive to the neighbouring district, where at the late morning temperature of -34°C it was already possible to fuel the car.
On the way to Khakghol, and also during the return trip, we could see small herds of Mongolian gazelles. They usually consisted of units and dozens of specimen, but this time – in the foggy and windy weather – they were no longer so alert; sometimes they even remained laying down in the steppe by the road. Twice I asked to stop, and I managed to get close enough in headwind to take quite good photos. I probably don't have to say that in the wind and frost it was not pleasant at all.
But the gazelles themselves prepared the best photo for me two and half hours later. We arrived at a place where there were many hundreds of them on both sides of the road – and one of the herds decided to cross it. All I had to do was just drive closer, then lean my camera against the car door and take the picture you can see at today's column.
This shot raised the interest of our Mongolian colleagues and later it was awarded the Picture of the Day on the server iNaturalist. It captures Mongolian gazelles within the context of their significant threat – which are linear constructions.
Mongolian gazelle occurs in eastern Mongolia with overlaps in adjacent areas of Russia and China, and particularly in autumn it migrates very long distances. Unfortunately, its migration routes are disturbed by fences, railroads and roads. A typical example was the construction of the railroad between Ulaanbaatar and Beijing at the end of 1950s, which was fenced from both sides, and which literally cut the area settled by Mongolian gazelles in two parts. Another example may be the fence which China built to fence off its entire territory. But it is not just about the constructions built in past times. Especially recently there has been a large-scale increase in roads in Mongolia and the traffic has been growing, along with export of raw materials to China. And the country wants – quite logically – to develop also in future decades. Just as logically, however, the plans for construction of more roads and especially railroads cause terror in the eyes of conservationists.
I don't want to predict here the future of Mongolian gazelles. I do have one piece of good news. The census, held in May 2020, showed that there were about 2,200,000 gazelles. This was significantly more than expected.
By Miroslav Bobek, Director of Prague ZOO