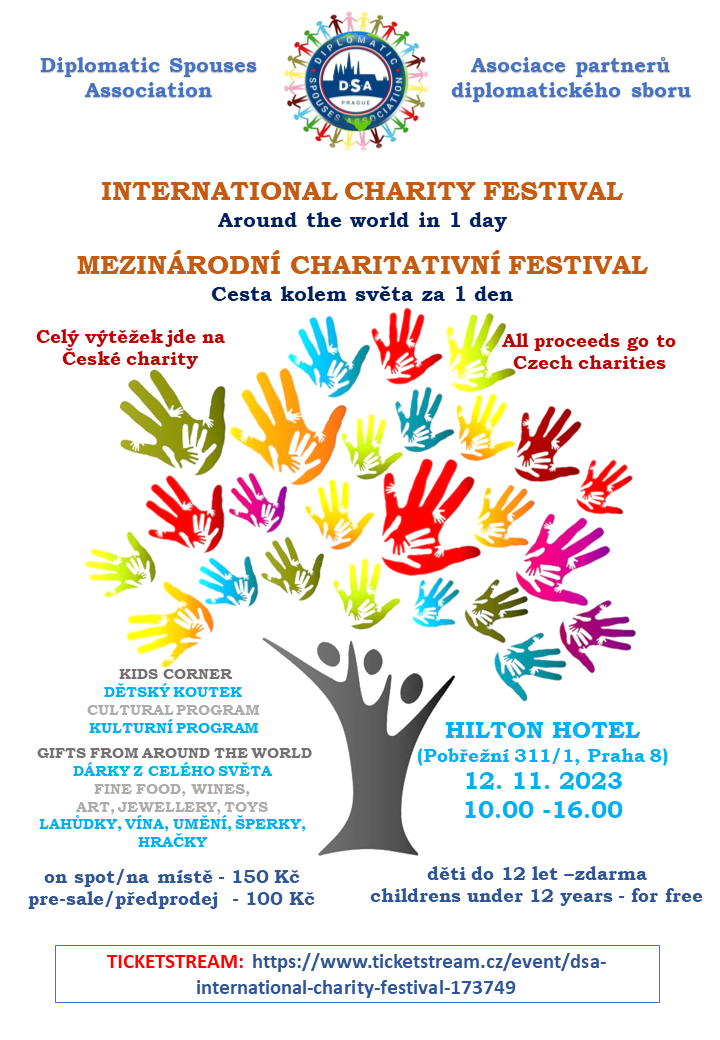 After a long hiatus, the Diplomatic Spouse Association is delighted to resume its annual Charity Festival. We cordially invite you to visit the festival with stends and shows for an enchanting journey to over 40 foreign communities and countries around the world. Experience a visual feast of vibrant costumes, tantalising flavours, captivating aromas, art, music and dance. It's also a perfect opportunity to support Czech charities by purchasing unique gifts and delicacies from various nations. Since 2000, the DSA has raised approximately 70 million CZK for Czech charities, making us one of the country's foremost benefactors.
This year the Festival will be held on Sunday, November 12 th 10.00 a.m. – 4.00 p.m., Hilton Hotel Congress Hall, Pobřežní 1, Praha 8.
Set on the eve of World Kindness Day, our Festival serves as a bridge, connecting people through goodwill and a generous spirit. Together, we aim to make a difference and create a brighter, more compassionate world. The entire proceeds raised at our Festival from entry tickets, tombola tickets, and sales at the stalls, as well as contributions from private sponsors and corporate donors, are allocated as grants to various Czech charitable organizations.
Aiding victims of crime or domestic violence, providing rehabilitation equipment, school transport for disabled children, supporting home hospices, offering musical instruments for disadvantaged children, assisting the visually impaired with guide dogs or equipment—these are just a few of the Czech philanthropic projects funded by the diplomatic community in Prague.
Such endeavors wouldn't be possible without the steadfast dedication of DSA members, the diplomatic community in Prague, our volunteers, sponsors, and the thousands who grace our festival with their presence. Through organizing this Festival, the DSA remains committed to supporting these and other worthy causes this year.
Join us for a remarkable Sunday at the Hilton Hotel, celebrating both the spirit of World Kindness Day and the festive winter season!
Kindness is a gift everyone can afford!
Tickets
• Pre-sale: 100, – CZK – available at: https://www.ticketstream.cz/event/dsa-international-charity-festival-173749
• At the door – 150, – CZK on the day of the festival.
• Children under 12 – Free entry. Learn more
DSA website: http://www.dsaprague.org/ Facebook: www.facebook.com/dsaprague Instagram: https://www.instagram.com/dsa_prague/ Contact: info@dsaprague.org
Photografs and video from one of previous festivals, courtesy of Leah Takata: https://www.dropbox.com/sh/n65kzv0kgpac8ps/AACFZNUlKqsvICX265toKOQja?dl=0 https://www.youtube.com/watch?v=26tHvywbjMY