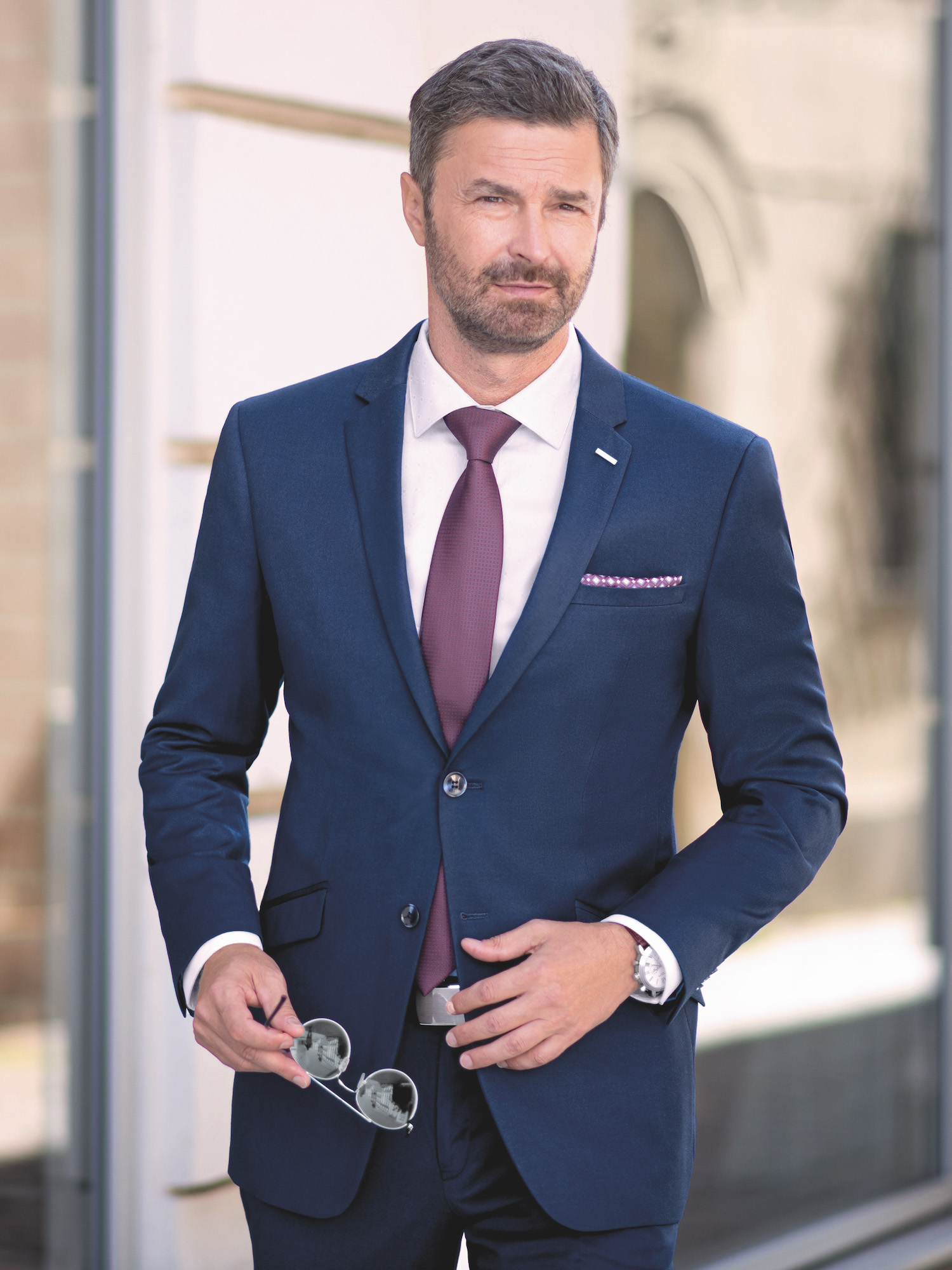 Text: M.Zisso; Photo: Archive BANDI
It is a matter of common knowledge that inappropriate choices of clothing may hinder your career growth and social life. So, when I became the owner and executive editor of the Czech & Slovak Leaders Magazine, it became quite clear to me that I could use some good advice on how to be dressed properly for different occasions. I decided to discuss the matter with the master – Denisa Vámoš Gróffová, the creative visionary of BANDI Menswear, a manufacturer of formal fashion. Let me share her professional advice with you.
The modern lifestyle creates enormous time pressure on men. Many are succumbing to this and beginning to change their clothing style to be simple and quick to put on. However, they do not realise that, in some areas, this is not possible, and that if they do so, they cannot then be surprised that they do not reap the success they expected.
It all starts with a tie
Now, we are talking about the clothing of managers and officials for work and business meetings. All these men are after success, which they turn into business contracts or money. One of the biggest transgressions is the elimination of the tie from formal wear at business meetings. It is necessary to realise that clothing plays a primary role in a business partner's assessment of your personality. The game is about trust, which is the most important ingredient of cooperation. The use of a tie is a big part of this.
The tie has the same meaning when dressing for social events. These include balls, weddings, anniversary celebrations, dances, and others. Here, too, men pursue their goals – to look great, to affirm their social status with elegant clothes, or to impress others. But, here too, they can encounter failure simply because they have somehow deviated from the rules. Well then, how would it be done correctly?
Clothes for work
Currently, men's suits in shades of blue are very modern and popular. "For work, I would absolutely recommend a blue suit with a white shirt, brown shoes, and the right tie, to every man.
Such an outfit not only inspires trust, but also increases respect towards you. This will be especially appreciated by officials in contact with the public," says Denisa Vámoš Gróffová, creative visionary of BANDI Menswear.
It is also important to distinguish whether the manager participates in business meetings outside the office or performs the duties within the company, with a team of colleagues. In a collective workspace, it is necessary to vary the choice of colours and patterns that go with a blue suit. This is true for both shirts and ties. If you do not do it, the people around could get the impression that you are wearing the same clothes and not taking care of yourself.
The right clothes for social events
A timeless classic has been, is, and will continue to be, the men's black suit. It should be a part of every man's wardrobe due to its perfect elegance. The great advantage of the black suit is variability. It can be combined with men's fashion accessories in shades of graphite or dark blue. "Blue shades inspire trust and calmness; they are suitable for all social and life events. I highly recommend an outfit consisting of a black suit and a dark-coloured shirt or tie for social events held in the evening or in winter. For example, balls," adds Denisa Vámoš Gróffová.
On the other hand, the summer season is more than suitable for changing the colours of clothes. For example, for a wedding, colours such as light blue, grey, cream, and so on are appropriate for suits. The recommended colours for shirts with these suits are all soft colour shades. Except for white, these include a touch of blue, pink, and the like. Even for a social event such as this, it is not advisable to omit the tie, unless the bride and groom are organising a so-called "themed" wedding, which implies an exception to the rules of social etiquette. Since guests come to weddings in pairs, it is a good idea to choose, for example, the colour of the tie according to the colour of the partner's dress or accessories. Always, so that these guests look like a colour-coordinated couple.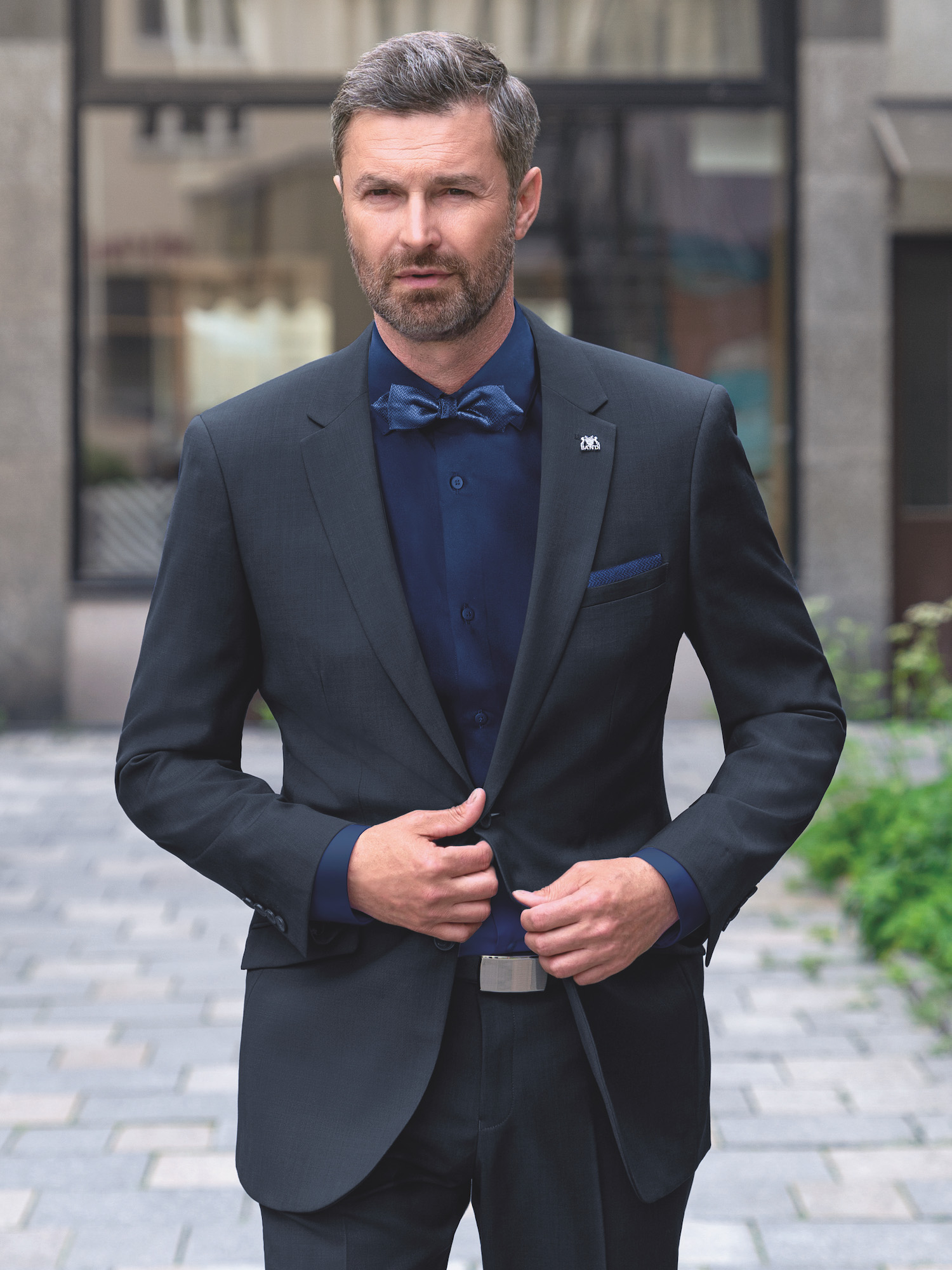 The way you dress is the way you are addressed
Every man should always decide what purpose he dresses for and what he expects from it. If you are going to the fitness centre, sweatpants are the way to go. When going to a restaurant with friends for a drink, there's nothing wrong with jeans, a T-shirt, and comfortable trainers. However, it is important to know that when you are going to an event from which you are expecting something, you must dress properly. Even though there has been a loosening of the rules in men's formal fashion it doesn't mean we can dress as we please. Many men don't realise this and then wonder why their plans don't work out. Nothing can ever change the fact that clothing has a major impact on how you appear to others and what their impression of you will be. In terms of social significance, it is not likely that there will be any changes to this in the future. The saying "the clothes make the man" will always be true.