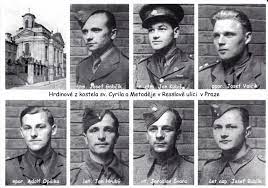 For the first time, two unique documents about the events surrounding the assassination of Reinhard Heydrich in May 1942 can be seen at the National Museum in Prague. They have been on display since Thursday as part of the special exhibition 'We Will Never Give Up!', which is being held as part of the 80th anniversary celebrations of Operation Anthropoid.
The two documents, one a letter from František Moravec to Brigadier Gubbins and the other a report to British Prime Minister Winston Churchill, are usually kept in the collection of the British National Archives. But for three months they are available for the public to view in the historical building of the National Museum in Prague. According to the museum's director, Michal Lukeš, it might be easy for visitors to miss the documents.
"Of course, they're archive documents so visually they're not that interesting – they're just two typescripts."
But their significance for European history cannot be underestimated – they confirm how important an act the assassination on May 27 eighty years ago was.
See the rest here.
Author: Anna Fodor