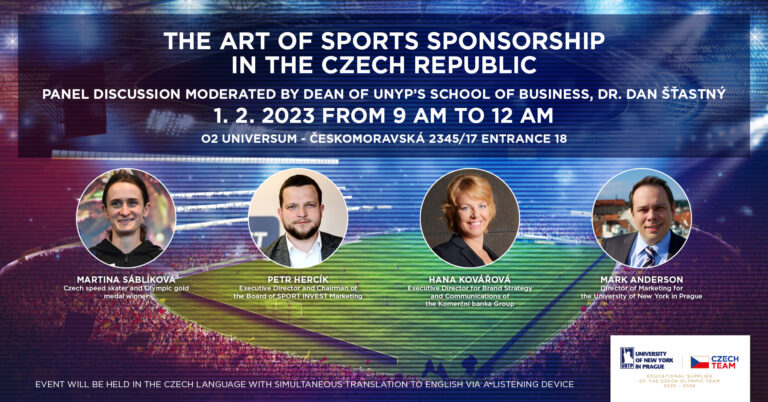 Prague, January 16, 2023 – The University of New York in Prague (UNYP) will be hosting a panel discussion on the practice of sports sponsorship on February 1st, at the O2 Universum. The panel will be discussing the best practices from the point of view of the sponsor, the athlete, the sports agent and will highlight the case studies that have come from the experience of the speakers.
The link to the event can be found here.
The link for registration can be found here.
The speakers of this event are:
Martina Sáblíková, a Czech speedskater, three-time Olympic Winner, world record holder, and 21 time World Champion. Martina holds seven Olympic medals, and was the first Czech to win two Olympic gold medals at one Winter Games in 2010.
Petr Hercík, the current Executive Director and Chairman of the Board of SPORT INVEST Marketing, a.s., throughout his career he has functioned as an Event Manager, Athletes Manager, Executive Manager, and Executive Director having experienced all aspects of sports marketing, sponsorship, management, and business.
Hana Kovářová, the Executive Director for Brand Strategy and Communications of the Komerční banka Group, and formally the Marketing Director of Raiffeisenbank, has worked on countless sponsorship projects throughout her career including sports such as ice hockey, golf, running, horse jumping, racing, and esports.
Mark Anderson, the Marketing Director for the University of New York in Prague, has worked with the Czech Olympic Team as a Partner with GE Money Bank, and now as the Educational Supplier to the Czech Team, is the Official Partner of Sparta Floorball, Partner of Prague Lvi Volleyball and works together on various projects with AC Sparta Praha on the sponsorship of their Arena in Podvinny Mlyn as well as the Czech Floorball Federation and even Rytíři Kladno hockey club.
The event is open to the public and to the press/media, is free of charge and will be held primarily in Czech language with simulcast translation to Czech and English. The event is meant for people in the marketing industry that work within sponsorship projects, sponsored athletes, sports clubs and federations and students of sports from any school.
The event is run with the auspices of the Czech Ministry of Education, Youth and Sport.
Press room with Czech and English downloads can be found here.
The live stream of this event can be found here.
Media Partner: