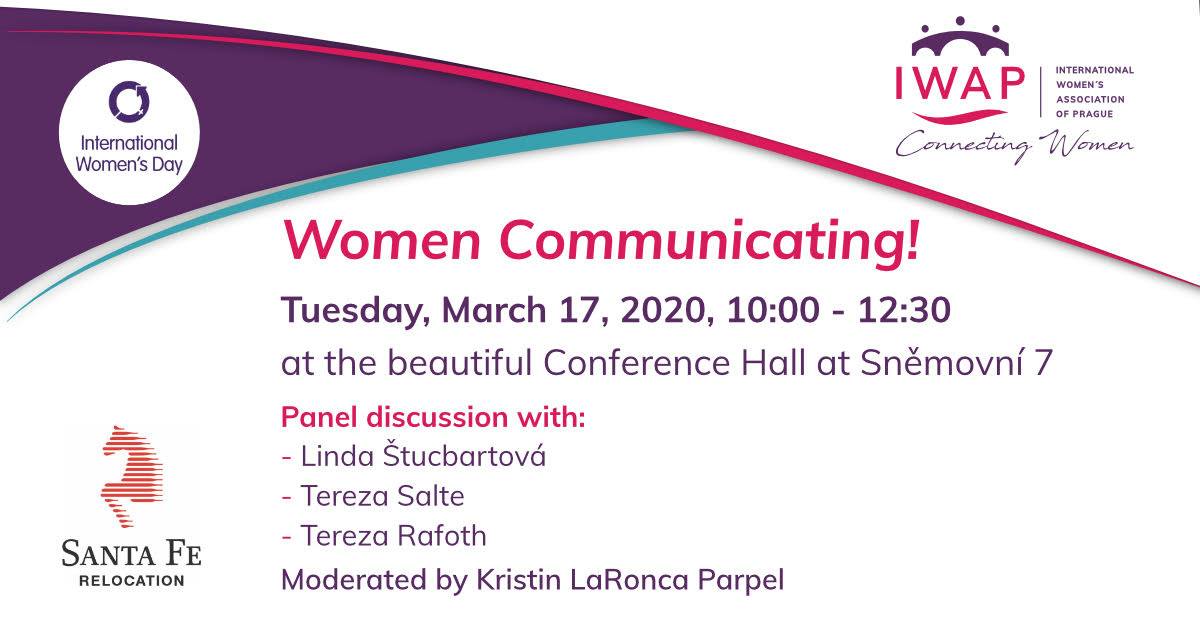 The International Women's Association of Prague (IWAP) is organising an event called "Women Communicating!" which will take place at the beautiful Conference Hall at Sněmovní 7 on Tuesday, March 17, 2020, 10:00 – 12:30.
Kristin LaRonca Parpel is an executive coach and consultant. Her company, KLP Coaching, offers individual and team programs focused on leadership and diversity. She is a frequent conference speaker and/or moderator. Kristin is a steering committee member and mentor with Equilibrium, and a mentor in EWOB (European Women on Boards) and My Odyssey. She has served on the Corporate Council of Forum 2000 and on advisory boards at UNICEF, CR and Anglo-American University in Prague. Kristin previously spent over a decade in the advertising industry both in Prague (as CEO of Wunderman) and in New York City (as Global Director of Marketing Services at Euro RSCG Worldwide). She discovered her passion for helping others as a peer counselor in high school and then studied psychology at the University of Hartford, USA. Kristin is a proud mother of two teenagers.
Linda Štucbartová, the founder of
Diversio
, connects start-ups, companies and academic institutions to support the Czech ecosystem of innovations. She provides business advisory and networking on technology transfers and organizes commercial missions to Israel. The summary of her more than 15-year career track lists various roles and activities for Diplomatic Academy of Ministry of Foreign Affairs, ŠKODA AUTO, the Czech-Israeli Mutual Chamber of Commerce, Charles University Council of Commercialization, Israeli OrCam AI device for visually impaired people, Ashoka, Atairu Authentic Leadership, Rotary Club Prague International, Anglo-American University, Minerva 21 and the Czech and Slovak Leaders Magazine. She is the author of three books. Last but not least, she has been happily married for 18 years and she is a mother of two teenagers.
In 2012 Tereza Salte started her blog,
TerezaInOslo.com
where she motivated readers to get out of their comfort zone and fulfill their dreams. She was awarded The Blogger of the Year twice (2014, 2015), and she wrote a motivational book called
Šlehačková oblaka
which became a bestseller in 2017. She is a co-founder (2015) of an agency called Elite Bloggers. Elite Bloggers represents the top Czech and Slovak bloggers and was one of the first companies in the Czech Republic representing influencers on a professional basis. Their values were from the very beginning to create a fair, sustainable, transparent marketplace and to mark commercial posts. They have developed a portfolio of hundreds of clients. Elite Bloggers has currently 10 full-time employees and Tereza and her husband have one son.
Tereza Rafoth is a licensed Prague guide, offering interactive custom tours through her own company, Pathways Through Europe. She loves mediating between history, art and literature on one hand and her clients on the other. Her work focuses on the lives of courageous women and lesser known heroes. Tereza has a Master's degree from Masaryk University, Brno, loving her triple major: Journalism, German and Czech language and literature. She worked producing films in Seattle, and upon returning home curated and produced a multimedia exhibition for Hartmanice Mountain synagogue. She is the co-founder of Footprints in the Landscape, a non-profit organization promoting cultural education outdoors, and also of the annual Festival of Karolina Světlá, a literature, theatre and music experience reviving the life and work of this 19th century pioneering Czech woman writer. She authored a book on the Coexistence of Czechs, Germans and Jews in Šumava.
Her life orbits around three sons.